Press Releases and Media Coverage

The Common Source Earned Top 50 Award for Fourth Consecutive Year
Houston Area Company Recognized as Fast-Growing Woman-Owned Business
HOUSTON — August 27, 2009
When Ann Zdansky, president of The Common Source, LP, took the stage at a luncheon last week to receive Houston Business Journal's award for being a top 50 fastest-growing woman-owned business, her employees, clients, and guests gave a loud ovation, Awardand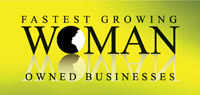 with good reason—The Common Source is no stranger to the prestigious list, having appeared every year since 2006. Each year, Houston Business Journal presents awards to 50 local, woman-owned businesses that garnered the greatest percentage of revenue growth the preceding year. Under the direction of Zdansky, The Common Source showed 11.8 percent growth from 2007 to 2008. Even as the economy turned downward last year, The Common Source's notable growth elevated them to rank number 41.
"It's truly an honor to be recognized on the top 50 list for the fourth year in a row," said Zdansky. "Every year we have expanded our revenue and reach, and the future is promising. I'm proud of the team at The Common Source since this achievement reflects our hard work and passion for what we do."
Houston Business Journal Publisher, John Beddow, and Fox 26 Anchor, Melissa Wilson, were on hand along with other corporate sponsors and distinguished guests to present the top 50 awards at the special luncheon held at the InterContinental Houston Hotel.