Press Releases and Media Coverage

Local Document Management Company "Adopts" Five Families
The Common Source Participates in Holiday Food and Clothing Drive
HOUSTON — December 20, 2013
For the eighth year in a row, litigation support and document management company The Common Source donated food, clothes and personal items for local families in need. Employees gathered earlier this month to collect and wrap gifts including warm clothing and three to four days' worth of food. The donation was made as part of a program run by Christ the Good Shepherd Catholic Church in Spring, Texas, where CEO Ann Zdansky and chief operations officer Shannon Reed are members.
Each year, members from Christ the Good Shepherd are invited to adopt families from Holy Name Catholic Church, a sister parish located in downtown Houston. This year, The Common Source adopted five families — a total of 35 people ranging in age from two to 66 years old.
"Giving back is an important tradition at The Common Source," Zdansky said. "We are proud to support this and other charitable causes throughout the year and around the world."
Founded in 1997, The Common Source is a litigation support and document management service provider with specialties in secure data hosting, electronic discovery, ESI Collection, document and book scanning, attorney review and more. The Common Source has been ISO certified since 2005 and is 100% HIPAA compliant. For more information about The Common Source, visit www.commonsource.com.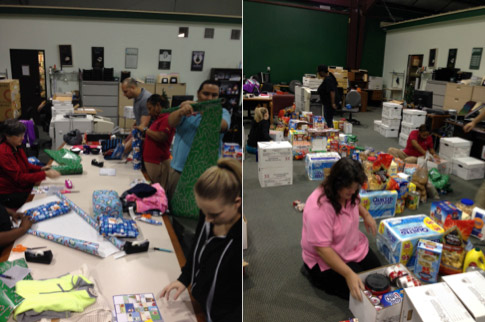 The Common Source Cutline: Staff at The Common Source sort and wrap gifts for local families in need.